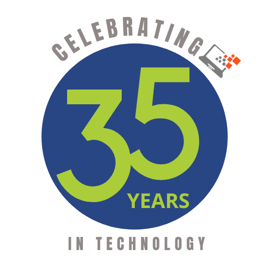 ---
In our world of IT, longevity is a big deal. Industry experience, innovation, and well-honed expertise built over time serves our clients well. So, we're delighted to announce that we are celebrating 35 years of providing industry leading, customized managed IT solutions and services to small and mid-sized businesses throughout the US.
We've come far from 1987 when CEO Bruce Steinfeld founded Bit by Bit as an application development solution service operating from a single desk in his garage. We've grown from focusing on database applications and networking systems to the full-service IT consulting and support firm with over 50 employees spread out from our NYC headquarters to offices throughout the US we are today.
From managed services to cybersecurity to customized applications, enterprise fax, business continuity and cloud solutions, we cover the gamut of technology needs for clients from all industries. We don't outsource and the majority of our talented technicians, engineers, and support have been with us for the long haul, garnering accolades for their rapid response times, timely resolution, and completing projects with efficiency, as promised, and on budget.
As technology has evolved, we have kept ahead of the curve, partnering with clients to develop comprehensive IT strategies and assist them in managing their IT infrastructures. We continue to lead the way in providing the most creative, cost-effective, and proven solutions that solve critical business challenges. Ultimately, we meet our clients at their individual IT needs, from day-to-day troubleshooting to strategic long-term planning, with our unique combination of solutions and award-winning customer service.
"Technology companies must constantly evolve to compete. For 35 years, we've consistently kept up with the trends and led with experience and expertise, always focusing on delivering the latest battle-tested solutions and personalized support services to our clients," says Bruce Steinfeld, CEO.
In serving clients from global enterprise to solo practitioners, we take pride in delivering the technology services, expertise and business insight that takes the headache our their IT and assists them in achieving their utmost productivity and overall business goals.
Contact us at info@bitxbit.com to see how our experience, commitment, and IT services and solutions can meet your individual business needs and goals.