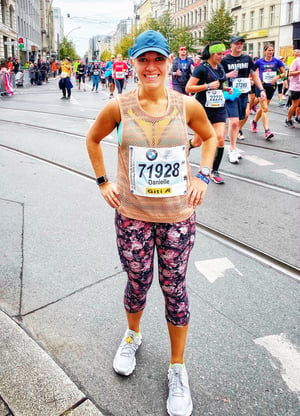 Update on Danielle's road to her Six Star Finisher!
Danielle has qualified for the Chicago Marathon on Sunday, October 11, 2020. To cheer her on, feel free to donate to her team Marley's Mutts, a non-profit organization that rescues, rehabilitates, trains and re-homes death row dogs from high-kill animal shelters.
Read on to learn more about Danielle.
It was at a 2013 Bit by Bit holiday party that Danielle Xuereb, Application Development Project Manager decided she was going to run a half marathon. She was chatting with CFO Jeff Steinfeld, an avid runner, and Rob Fischgrund, VP Application Development Manager when they challenged her to try it. She had never been a runner before, only a fair-weather friend of the gym, but the idea of accomplishing something that once seemed so impossible drove her to do it.
Seven years, 18 half marathons, and two marathons later, Danielle is officially a runner. She's set her sights high, running towards her goal of becoming an elite Abbott World Marathon Major "Six Star Finisher." To earn this title, she will need to compete in six of the largest, most renowned marathons in the world: Tokyo, B.A.A. Boston, Virgin Money London, BMW Berlin, Bank of America Chicago, and TCS New York City.
Only 6,248 people in the world have earned the coveted medals and Danielle is on her way to joining them. She's completed New York and Berlin so far, with hopefully Chicago and London next on her list for 2020-2021.
"I've found that I love to run and getting to travel to places such as Cuba, Key West, Seattle, and Berlin is a great way to combine two things I really enjoy in life."
Danielle is used to setting goals and achieving them. As part of the Bit by Bit team for over ten years, she is a Project Manager who works with clients to learn their business and prioritize pain points in order to provide efficient solutions – all within their budget and timeline. She helps build out custom applications and replace systems with better technology while reviewing existing processes to determine ways to effectively streamline business.
Feel free to congratulate Danielle on her journey to becoming a Six Star Finisher and check in with us to hear about her progress!