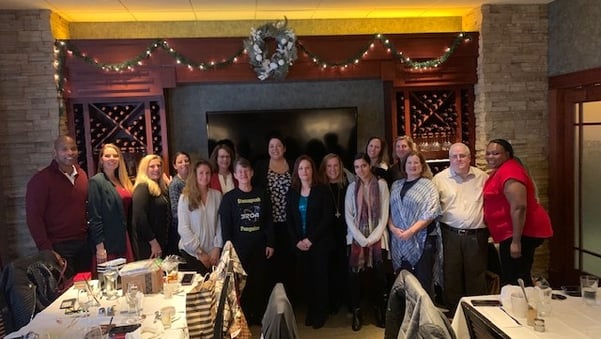 As the Lead for the NJ Chapter of Women in Technology (WIT) Network, Bit by Bit Client Solutions Executive Dara Orsini recently hosted a charity luncheon honoring The Mary Louis Academy (TMLA) girl's robotics team, the only all-girls school with a robotics team in New York state and one of only two all-girls teams in New York City.
WIT chose TMLA for this year's fundraising efforts after member Kathy Rutherford, a retired robotics engineer and TMLA alumna suggested connecting the women's networking organization with the award-winning team of young women.
As future leaders in technology, Team TMLA designs, builds, tests, and programs robots while applying real-world math and science concepts, critical thinking, team building, and presentation skills for competitive tournaments.
It was a natural fit for WIT, a nonprofit with a mission to promote, support and inspire women working in technology. As part of this mission, WIT also mentors girls interested in STEM and encourages careers in the technology sector.
Dara and WIT members will continue to support Team TMLA at 2020 competitions and beyond, offering a wealth of information and encouragement to the young technology talent.
Click to learn more about WIT and TMLA.