We're pleased to announce that Bit by Bit has been featured as one of the 2018 top B2B IT service providers in New York by Clutch, a leading data-driven, third-party ratings and reviews system.
By conducting thorough client interviews, Clutch establishes an honest, clear picture of a vendor for potential clients looking to find the best business partner for their needs. This data creates an in-depth ranking methodology focused on providing a transparent, accurate view of an industry and its vendor. These reviews cover every aspect of a project -- from initial challenges to measurable success as well as the relationship between buyers and sellers.
Clutch features a wide range of industries, including web and app development, custom software development, and web design and their coverage of IT services is becoming their fastest-growing segment. Our position as a market leader is an accolade we're proud to showcase to our customers.
Check out our first 5-star review!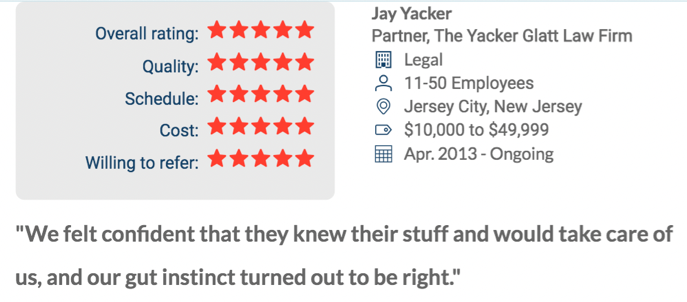 Being featured on Clutch also qualifies Bit by Bit for key spot on their sister site, The Manifest, as one of the best cybersecurity companies in 2018!
Thank you to our friends at Clutch for including us in their research. We'd especially like to thank our customers for taking the time to speak on our behalf. It's not every day that we get the opportunity to receive such direct feedback, and we're pleased that our work has generated positive results.
We highly value our customer relationships and look forward to continuing to provide top-notch IT solutions and services designed just for them.
To see how we can help you with your IT needs, contact us at info@bitxbit.com or 866.391.1566!