Let's face it, the pandemic has created unprecedented challenges for society as well as the global workforce. The coronavirus has profoundly impacted employees and has dramatically altered the productivity of our working from home.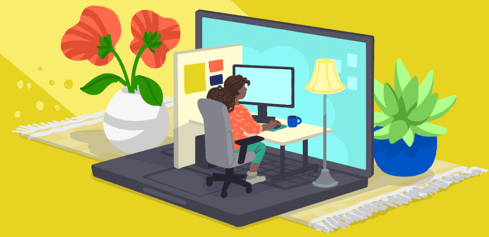 Now that your company has mandated remote work and you're almost a year in, you might have most of it buttoned up or nailed down. You have perfected your 30-second commute to your Zoom or Teams spot for video meetings. Your Wi-Fi has been upgraded to 5G and you've launched an Uber Eats account.
But what if you are a user or admin of your company's critical RightFax platform?
Well, fear not. RightFax has addressed the needs of the remote and mobile workforce with the introduction of the new RightFax FaxUtil Web available in Versions 16.4 or greater. This release includes a new user client that provides a full-featured, web-based experience. It offers all the functionality of RightFax FaxUtil, but eliminates the administrative burden of managing a Windows-based RightFax user client.
Intuitive navigation makes RightFax FaxUtil Web easy to use, improving end-user mobility with anytime/anywhere access from a web browser. It will allow you to do many tasks that previously were only available when you were sitting at your corporate desk. These include, but are not limited to:
Add comments, annotations & approvals of other faxes
Manage other faxes with delegates permissions
Create & manage workflows using easy visual workflow configurator
Index faxes to provide a more accurate search & filter experience
Create, track & manage fax documents instantly with new preview pane
Create custom fax broadcast jobs
Scan documents & faxes by taking a photo with your smart phone
New archiving tools
Establish advanced dialing rules enabling priority & delayed sending
No, it's not a dessert topping and a floor wax (thank you, Saturday Night Live,) but it does provide the functional versatility that enables remote workers to stay productive in their virtual RightFax world.
Hopefully, COVID-19 will be a thing of the past in the not too distant future and corporate America will commence with the new normal. But in the meantime, your 30-second commute to your virtual Zoom meeting can continue unabated with the new RightFax FaxUtil Web client.
Let us help you get going with this exciting new tool from RightFax. Contact me at scott@bitxbit.com.