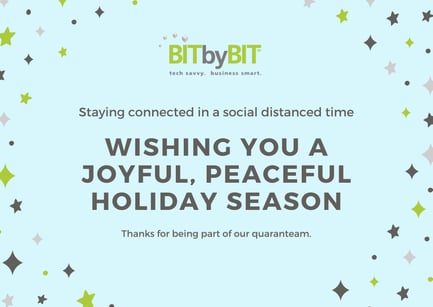 As this challenging year comes to a close, we turn our eye to 2021 with hope in focus on the horizon. And, we do it grateful for our family, colleagues, friends, and customers who have navigated the COVID-19 crisis with us. Not to mention the bravery and incredible commitment of all the frontline workers who have put themselves at risk to help us all during the pandemic.
In this moment, we believe there will be a fresh start, with positive tailwinds guiding us there -- vaccines, a renewed purpose, and promise leading the way.
So, in this spirit, we say thank you. Thank you to our customers for continuing to support us and remaining loyal during difficult times. In the long days of quarantine and lockdowns, with words like "pods," "social distance," "flatten the curve" and "abundance of caution" introduced to our lexicon, we've appreciated your willingness to stand with us and we've worked hard to ensure that we've given you reason to trust us to take care of what you need.
As we've had to pivot and adapt to the massive shift to remote work, we've remained vigilant on keeping your workplace – whatever and wherever it may be -- safe and running smoothly. Whether its managing cloud collaboration with Microsoft Teams and Zoom meetings (often with pets or children in the mix,) securing your data and networks against increasing cyber security risks or expanding and upgrading your IT infrastructure to accommodate this new environment, we will always evolve to provide you the most innovative, reliable, managed services.
Looking forward, we assure you that you can continue to rely on us to be the welcoming voice you hear on the help desk line, friendly response to your email requests, or IT frontline engineering tech who comes to an onsite visit prepared with the knowledge and experience to fix whatever may have gone awry. Our commitment to you never wavers.
Together, we can embrace this new way of life, innovation, and opportunity with a stronger connection and emerge from the darkest days into the brighter days ahead. Join us as we say goodbye to the transformative year that was 2020 and welcome the promise and hope of the new year in 2021.
Warmest wishes to you and your family from ours at Bit by Bit.