We've got great news! Our Bit by Bit team is proud to announce our latest and greatest award from The Manifest. They recently named us as one of the most-reviewed IT agencies in New York and Boston.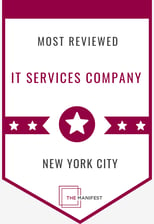 This is an incredible achievement and one of our most important milestones to date.
For those who are wondering, The Manifest is a company list blog and business blog website that aims to gather and verify the hard data, expert insights, and actionable advice that clients need to build their brand and grow their business – to provide the practical business wisdom that manifests in success.
We would like to take this opportunity to express our appreciation to The Manifest. On that note, we would also like to thank our clients for helping us win this award by supporting our business throughout these years.
To show our appreciation, we're highlighting a few of our client reviews:
"Bit by Bit has been on top of things from the beginning. They've been proactive about gathering quotes from vendors and surveying the office floor to provide accurate time estimates. They've consistently provided timely, thorough project assessments and been transparent in their pricing."
- Analyst, Fitness Company
"They will take your business seriously; Bit by Bit understands that no matter the size of your business, your purpose is important. They do their very best to make sure you succeed. If there's an issue, they step in immediately."
- Britton Merritt, Vice President of Marketing Communication
Thank you again to all our clients!
Connect with us today! We'd love to hear from you.