As a Technical Representative, Porfirio Borrero offers clients a healthy combination of hands-on technical IT support and connective customer service. As an integral part of Bit by Bit for almost 25 years, he believes, "I guess I really like the company and our clients," he says. "I'm happy here and it's important to me to see my customers happy too."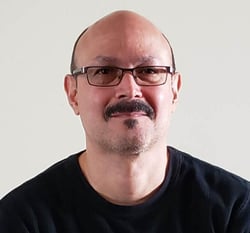 Hailing from the Bronx, Porfirio originally joined Bit by Bit as part of a "break/fix" team. He had always had a passion for working with his hands and fixing things, so it was a natural fit for him part of the actual hands-on computer cabling, wiring, repairing, and connecting. He came aboard early in the days of tech support and has grown his role to include more customer-centric responsibilities.
Porfirio is responsible for a number of clients in New Jersey where he literally keeps his clients connected to their IT. He troubleshoots if hardware or software is down, often opening up computers to get the complete picture of where something may have broken. He will help replace and/or rebuild older desktops, laptops, and upgrade software. If a server is down, or a screen is broadcasting "hardware failure," he will find the source of the problem, fix it, restore operations, and get it back up to speed. Whether connecting the Internet, printers or networks, he's dedicated to keeping all technologies running smoothly for all users.
When Porfirio is on site, he's known for his "magic touch" with all things IT, and when he takes a few days off for vacation, clients often wait for him to return if they have any issues with their systems or networks. They trust him that much and they know he will always bring his dedication, commitment to solving problems, and hands-on service back to them to address their IT needs.
Porfirio has found another way to utilize his hands to express his passions. He's a self-taught saxophone player with a magic touch for the keys.
Need a "break/fix" technician for any of your computers and networks? Contact us at info@bitxbit.com to connect to Porfirio.