We can all use a little bit of positive mojo right now. And, at Bit by Bit, Richard Dupuy, Sales Administrator, has been the one bringing it into the office every day, taking care of business during the pandemic.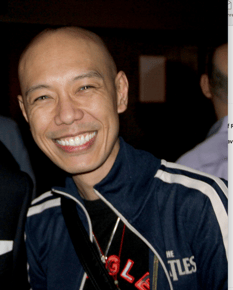 When COVID-19 upended our lives and we all hunkered down at home, Richard consistently made the trip into our downtown NYC office to keep the mothership humming along.
Being onsite, he helped keep our systems up and running, picked up the mail, periodically addressed client concerns, and pitched in with any administrative duties to keep things afloat. Most importantly, he shared with us and our clients his characteristic upbeat energy and unflagging commitment to his work during an incredibly stressful time.
Yet, working in a pandemic hasn't changed too much of all that Richard does for Bit by Bit. In fact, he continues to support the Help Desk, dive into invoicing and financials, and assist sales reps with developing systems and tracking data. Coming to Bit by Bit from a seasonal assignment, he has grown to become an integral part of our culture and business.
Only now, he's also become the glue for urgent situations that pop up. He eagerly pitched in when the sudden global shift to remote working required setting up a bulk number of laptops and sending them to Bit by Bits clients. With the remote assistance from Bit by Bit engineers, he got them up and running and out the door quickly, so that our clients were able to make the change from in office to work from home set ups much easier.
During this time, he has also grown to become a conduit between clients and our engineers, helping facilitate communication and assist in supporting the entire customer service experience.
So, we at Bit by Bit say "thank you" to our essential worker Richard -- for your dedication, willingness to roll up your sleeves to pitch in, and for your generosity of spirit -- qualities we all can greatly appreciate these days.
Shout out to Richard!