There are certain qualities that make our Bit by Bit tech engineers so valuable. Things like responsiveness, breadth of IT knowledge, creativity, flexibility, and an ability to understand a customer's needs and respond quickly so they feel at ease and know that we'll be able to fix their problem.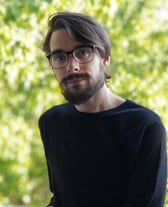 Collin Torrens has that and a whole lot more.
Throw in an innate patience, a natural curiosity about what he does, and a wicked good sense of humor and meet one of our help desk engineers, widely respected by staff and customers alike.
Collin came to Bit by Bit over a year ago. After working with pre-K special needs children, then in small business management, he discovered his talent for IT work when he participated in the Obama Administration's Department of Labor America's Promise job training partnership program. Along with fellow Bit By Bit network engineer Kam Romeo, they earned Comp TIAA+ and CCNA (Cisco Certified Network Associate) certifications. When Bit by Bit's Rob Bello presented to their group, he was also scouting for talent and found it. A week later, they both became part of the Bit by Bit team.
Only a few months in, COVID-19 delivered a dramatic shift to remote working for both customers and staff. As frontline workers, or the IT first responders to help desk requests, the tech engineers faced high demands for work-from-home IT set up and assistance.
Collin quickly stepped up, learning the ins-and-outs of remote technologies to better prepare himself for keeping companies working smoothly. He developed a versatile skill set, exploring different areas of IT to enhance his working knowledge of everything from routers to hardware to MS Windows to Adobe. By looking for what could go wrong with technology, he could understand how it works. He could see through the problems to solve them or automate the process entirely to stop the issue from occurring again.
No matter the request, Collin always looks at his job through the lens of being a customer. What is their frustration? And, how can he help alleviate it? He's patient and responsive, always taking the steps necessary to remediate the situation as efficiently as possible. Prioritizing, organizing and managing time well are key to his resolving the many help desk tickets he faces every day. He appreciates the supportive culture of growth at Bit by Bit where everyone works together to share information and build each other up, whether it's a skill level or putting in a good word.
Collin rarely steps away from technology, yet in his downtime, he continues to soak up knowledge, exploring systems and hands-on solutions, knowing that his IT hobbies benefit his work as well. But when he takes a break, he's started collecting vinyl records. And, he proudly shares that he and his wife enjoy bike touring -- a recent ride spanning NYC to Buffalo, with the actual newspaper clipping to prove it.
Next time you submit a help desk ticket and Collin is the one to respond, know that you're in one of the many sets of good hands we have on call for you 24/7/365 and you can breathe easier.